25+ years experience in providing exceptional service to homeowners in Calgary and Red Deer
With over 25 years of experience providing lawn fertilizer, weed control and lawn care services for residential clients in Calgary and Red Deer, we know that the home service industry has plenty of specialized companies providing a single service.  But we questioned if this was the most effective way to provide residential clients these services? What are customers looking for from home service providers?  After researching and talking to our clients, the short answer we arrived at is home owners are looking for simplicity and more free time to do the things they actually enjoy.  What the industry is lacking is a company that can provide the simplicity of dealing with one single company for a variety of home and property care needs.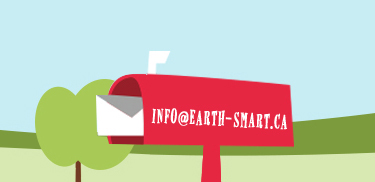 Save time and eliminate hassle with an
"ALL-IN-ONE HOME & PROPERTY SERVICE PROVIDER"
With an "all-in-one home and property service provider" clients have the convenience of one company, one bill, and one appointment. This reduces the hassle of selecting and corresponding with multiple companies, trying to schedule multiple appointments and paying multiple bills.
Our Earth Smart Property Solutions team worked extensively with an industry specific software provider in order to provide user-friendly account management software for our clients.
This system allows our clients to manage tasks such as scheduling appointments, making payments and selecting service options all from the convenience of their computer or mobile device.
Through this process and after completing extensive research by finding out what our clients  need and want, Earth Smart was conceived with a focus on simplicity, customer service, and attention to detail.
With Earth Smart, you can spend less time dealing with numerous companies and more time enjoying your free time. We invite you to try out our services and enjoy more time enjoying relaxing in your home and yard with Earth Smart as your all-in-one home solutions provider.

Our Customer Service Promise
1.  At Earth Smart Property Solutions we answer our phone.  However, if we miss your call, phone messages and emails will be returned within 24 hrs Monday to Friday.
2.  Customer communication is of utmost importance.  If services can't be completed due to weather, we will let our clients know ASAP and reschedule.
3.  If any of our customers experience any problems or issues with our service, we promise to address it immediately and resolve it quickly.  
4.  For customers who request service calls, we will contact you within 10 days to follow up on your service, to make sure the problem or issue was resolved. 
5.  Requests for quotes submitted electronically will be provided within 48 hours. 
6.  Requests for quotes provided by phone will be completed either immediately or within 2 hours, during business hours.  
7.  We give our word that we will deliver on any promises we make.
8.  If you are a new residential client located in Calgary or Red Deer, we guarantee that services will be completed within 48 hours (weather permitting). For new residential clients located on acreages and out of town, this time frame may vary, depending on your location and the type of service requested.
9.  Customer satisfaction is of utmost importance. For new residential clients, we will contact you within 10 days following your first service to make sure you are satisfied with the service performed and to answer any questions you may have.