Snow Removal
With Canadian winters you can always count on one thing, snow! Each season a homeowner will spend hours shoveling snow, which puts serious strain on your free time (and not to mention your back). With Earth Smart's monthly snow removal programs, we can take care of snow removal around your property, so you can have more time to do the things you enjoy.
As Albertans, we understand snow! Winter safety is a priority. Snow on your property can be very unsafe, especially with children, seniors, and those with disabilities.
Clean sidewalks and walkways are vital to avoiding slips, trips and falls and can avoid costly tickets from the city.
Our dedicated team of snow removal professionals will make sure that your property is taken care of promptly, efficiently and with outstanding attention to detail.
Our snow removal services include:
sidewalks
pathways
stairs
driveway
deck
patio
rear walk services
We are offering snow and ice removal for the Winter 2023 / 2024 Season from November 1st to March 31st in:
Central Alberta:  Blackfalds, Penhold, Red Deer, Springbrook and Sylvan Lake areas
Calgary Area:  Calgary: SW and SE quadrants (some areas may not be available)
Click here to view 2023 / 2024 Winter Snow Removal Service Area
We have created 4 snow removal programs. Learn more below. To download a brochure with all 4 programs, please click here: Snow Removal Programs
Click here to find out if these services are available in your area and to request a quote.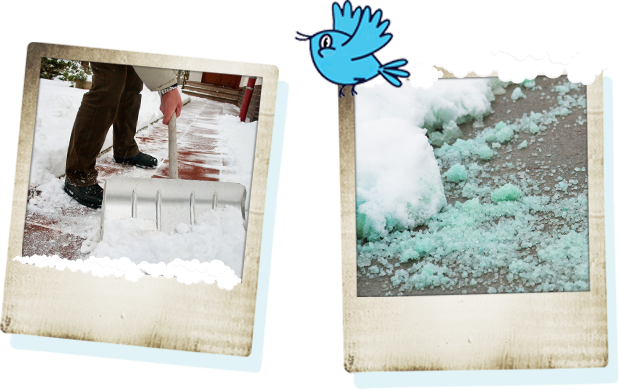 Winter Snow Removal Programs
Our snow removal programs range from basic to all inclusive, depending on the areas selected to be cleared:
What's Included in all of our Monthly Winter Programs
Unlimited site visits after each snowfall

(maximum of once per day).

Snow clearing within 24 hours of a snowfall

.

Before and after site photos kept on file.

Clear and concise invoicing with one bill at the

end of the month.

24/7 access to your account

and billing information through our online customer portal allowing you to access your scheduled services when you're away from home and to check if your services have been completed.
Do you have questions on our Snow Removal Program?  Please check out our FAQ's or contact us for more info.
Please note that snow removal services are not provided on Christmas Day and New Year's Day.
Additional Services Available
We also offer the following services which can be added to any of our monthly programs (if not already included in it) or which can be booked as a one time or emergency service:
Driveway Clearing (up to 600 sq. ft. Ex: a 20' x 30' driveway)……………. $44

Back/Side/Rear Walk Clearing ……………………………………………………………….$44

Deck/Patio Clearing (up to 300 sq. ft.)…………………………………………………..$44

Corner Lot (Up to 180')……………………………………………………………………………..$44

Ice melt* application if Winter Snow Removal Program is booked…… $2/lb

One-time/emergency ice melt* application……………………………….…….…….$60 per man hour + $2/lb

One-time/emergency sidewalk clearing available ……………………………….$60 per man hour

One-time/emergency ice chipping available………………………………………….$60 per man hour

Vacation Sidewalk Clearing ……………………………………………………………………..Contact your local office for a free estimate

Acreage Snow Removal (available in select areas only) ……………………..

Contact your local office for a free estimate
* The ice melt that we use is safe to use on asphalt, black top, brick, plants, grass, powder coated steel, sealed stained deck with stainless steel joints, unfinished wood and rubber. Ice melt is not recommended for concrete less than 1 year old, porous surfaces or painted surfaces. Talk to one of our specialists if you have concerns regarding the use of ice melt on your property.
Please not that there is a one hour minimum charge for one-time services.
Our Smart Guarantee
Our snow and ice removal services are backed by the Smart Guarantee. If you ever have an issue with your snow and ice removal services, please contact us and we will return to your property as soon as possible to address the issue to ensure that you are happy with the completion of your services.