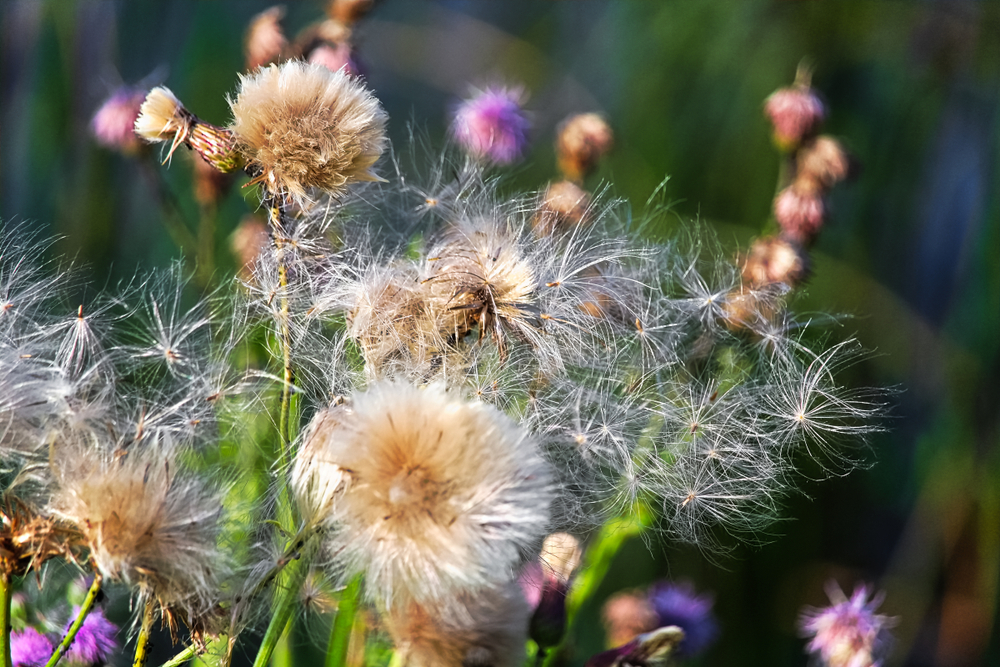 Canada Thistle is an invasive noxious perennial weed.
Perennial weeds grow from root stalks every year and spread by seeds and roots.
Canada Thistle is regulated by the Alberta Weed Control Act and is provincially designated as a noxious weed. Under the Weed Control Act noxious weeds must be controlled and includes the plant's seeds.
"Noxious weeds have the ability to spread rapidly, cause severe crop losses and economic hardship." (Source: Alberta Government Website)
"Invasive species are plants, animals, or other organisms that are not native to the ecosystem under consideration and whose introduction causes or is likely to cause economic or environmental harm or harm to human health."
"Invasive species out-compete native species for food and space, alter or destroy ecosystems, disrupt food sources, and introduce parasites and disease. They also harm local economies by reducing crop yields and livestock forage production, decreasing property values, interfering with irrigation and water control structures, and discouraging outdoor recreation. Invasive species cost Alberta and Canada billions of dollars a year." Source: (Source: Alberta Invasive Species Council)
Canada thistle is also commonly known as creeping thistle.
Read on to learn:
HOW TO IDENTIFY CANADA THISTLE
HOW CANADA THISTLE SPREADS
WHY CANADA THISTLE IS DAMAGING
TIPS TO PREVENT CANADA THISTLE
TIPS TO CONTROL CANADA THISTLE
WHEN IS THE BEST TIME TO CONTROL CANADA THISTLE
INTERESTING LITTLE KNOWN FACTS ABOUT CANADA THISTLE
RESOURCES TO OBTAIN MORE INFORMATION ON CANADA THISTLE
HOW TO IDENTIFY CANADA THISTLE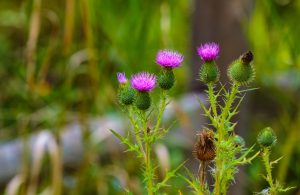 The following information describing the features of Canada thistle is compliments of Alberta Invasive Plant Identification Guide:
Information: Introduced from Europe. Found across most of Alberta.
Life cycle: Aggressive creeping perennial.
Root: Horizontal and vertical (rhizomatous).(A rhizome is a horizontal stem growing beneath the ground which can develop roots or sprouts at the joints.)
Leaves: Alternate, wavy, lance shaped, lobed, spine-tipped and lack stalks; Upper leaves smaller than lower leaves.
Stems: 30-120cm tall, lack spines, erect, ridged, branched, and slightly hairy.
Flower: Purple, pink or white with diameter of 1.5-2cm form clusters at branch ends. Bracts have weak prickles (no spines). Have male and female flowers. Have a sweet smell when in bloom.
Seed/Fruit: Long, flattened seeds with tufts of white hairs.
Control: Chemical, late fall application.
HOW CANADA THISTLE SPREADS
Canada thistle has a very effective system for spreading, using it's roots and seeds.
According to the Family Handyman, "Once firmly anchored in the ground, it can spread quickly via a robust root system. Vertical tap roots (taproots are the primary descending root along the vertical axis of the plant which is larger than the branching roots) can penetrate up to six feet into the soil searching for water and nutrients. Sideways-growing rhizomes, 12 to 18 inches underground, can grow up to 12 feet per year, allowing Canada thistle to aggressively spread and propagate. That makes killing it difficult."
"And as if that wasn't enough, each of those beautiful purple flowers will distribute up to 5,000 seeds, effortlessly spread over your landscape by the wind. Seeds can stay viable in the soil for up to 20 years before germinating when conditions are right."
WHY CANADA THISTLE ARE DAMAGING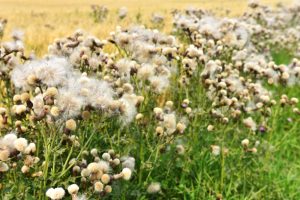 Canada thistle is classified as a noxious weed. "Noxious weeds have the ability to spread rapidly, cause severe crop losses and economic hardship." (Source: Government of Alberta)
Are you wondering how they are able to cause such damage? This may help to explain:
Canada thistle drains nutrients from the soil around the plant, which can damage lawns, crops, and pastures.
Canada thistle uses large quantities of water. This can make the soil around the plants dry and increase the potential for erosion.
Canada thistle's extensive root system allows it "to survive periods of drought and access water and nutrient reserves far below the roots of native plants." (Source: Alberta Invasive Species Council)
Through these techniques, Canada thistle chokes out other plants growing and can take over, with patches of Canada thistle expanding and growing rapidly.
TIPS TO PREVENT CANADA THISTLE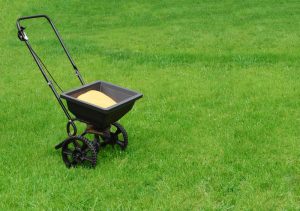 According to the Alberta Invasive Species Council, "The best preventive measure in non-cropland is to maintain healthy plant cover and to reseed disturbed areas with a desirable species as soon as possible. Canada thistle seedlings are very shade intolerant and will not establish under low light conditions. Avoid overgrazing to prevent thistle establishment in pastures/rangeland."
To prevent Canada thistle from taking over your lawn, the most important thing you can do is to have a healthy lawn. Be sure to fertilize, aerate once a year, mow at a recommended height, keep it watered and if you have thin areas, overseed. Weeds are opportunistic, so if you have a healthy thick lawn, they are less likely to creep in and take over.
TIPS TO CONTROL CANADA THISTLE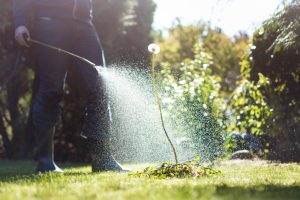 In order to prevent establishment and future spread, noxious weeds such as Canada thistle need to be controlled.
Landowners have a legal responsibility to control noxious weeds, according to the Alberta Weed Act.
In order to control Canada Thistle, it is important to kill the roots since the majority of their biomass is below the ground. "An integrated management plan that uses a variety control options is the most effective long term strategy for reducing infestations." (Source: Alberta Invasive Species Council)
What TO Do
"Repeated mowing through the growing season gradually depletes the food energy stored in the root system. Repeated hand pulling in loose soils can also effectively stress the root system. To succeed, several years of effort must be committed." (Source: Alberta Invasive Species Council)
Spray with a herbicide or contact a weed control company, such as Earth Smart Property Solutions to help you. "Always check product labels to ensure the herbicide is registered for use on the target plant in Canada by the Pest Management Regulatory Agency. Always read and follow label directions. Consult your local Agricultural Fieldman or Certified Pesticide Dispenser for more information." (Source: Alberta Invasive Species Council)
Fall is an ideal time to control Canada Thistle, as they store up nutrients and moisture in their roots for the winter. Consequently any herbicides applied will also be moved into the root system. Canada thistle can survive several light frosts, allowing them to be treated later into fall. (Source: Mix It Up)
Use a weeding tool to try to pull the weeds. Be careful to get the entire root system.
Don't let your weeds go to seed.
What NOT To Do
Cultivation only produces small root pieces that rapidly develop into new plants, and does not reach the deeper roots.
Try to pull up individual weeds. "It is difficult if not almost impossible to pull a Canada Thistle and get the complete root. Each Canada thistle plant "connects to a network of underground rhizomes, creating an elaborate web of what appears to be individual plants. Pulling up individual weeds can actually make things worse. When you pull it, it breaks, and the rhizome it's connected to can sprout two more plants to replace the one you just pulled!" (Source: Family Handyman)
WHEN IS THE BEST TIME TO CONTROL CANADA THISTLE
According to PennState Vegetation Management, "The most important opportunity for control is the fall when thistle is recharging its root system for the next growing season. Fall is the ideal time to maximize injury to the thistle's root system because systemic herbicides move through plants with the sugars being sent to the roots. As the thistle is stocking up its root reserves for the winter, it will send fall-applied herbicides to where they can do the most damage. Product selection is more important in the fall as only a few herbicides available for use in CREP plantings are truly effective Canada thistle control products.
"Late spring, when thistle is at the bud-to-early-bloom stage is the second important opportunity for control. Much of the energy to produce the spring flush of growth comes from stored reserves in the root system, causing a seasonal low of stored energy at bloom stage. This is an ideal time to eliminate the top growth and force the plant to use its scarce reserves to regrow."
"An herbicide application at bloom stage will serve as a 'chemical mowing'. The choice of herbicide treatment in the spring is not as critical as it will be in the fall. The spring application acts somewhat like a burndown treatment, eliminating the top-growth, but injury to the root system is limited. Well-established Canada thistle will eventually regrow after a spring application, regardless of the treatment."
"What is important is that the treatment effectively eliminates the existing top growth."
INTERESTING LITTLE KNOWN FACTS ABOUT CANADA THISTLE
Canada thistle is not native to Canada, despite it's name. "The plant was called "Canada" thistle because early New England residents blamed its emergence on French traders from Canada. However, historians believe it appeared in the United States and Canada at approximately the same time." (Source: Nature Conservancy Canada)
"Canada thistle (is) also found to be allelopathic, which means that it secrets chemicals from its roots that are toxic to surrounding plants, giving it an advantage." (Source: National Park Service)
A single plant can produce up to 1,500 seeds, which are mainly dispersed by wind, but can also be spread by animals, equipment, water and additional means.
Canada thistle is the only thistle with separate male and female plants
Canada thistle was introduced from Europe
Canada thistle roots can spread underground:

horizontally up to 4.5 meters
vertically up to 6 meters
RESOURCES TO OBTAIN MORE INFORMATION ON CANADA THISTLE
For more information on Canada thistle in Alberta, check out these resources:
If you would like help and advice on controlling weeds on your property, please contact us and we will discuss your needs and recommend a course of action.
SOURCES:
Alberta Invasive Species Council, Canada Thistle
Alberta Invasive Species Council, Canada Thistle, Fact Sheet PDF
Alberta Government Website, Provincially regulated weeds
Alberta Government Website, Provincially regulated weeds, Fact Sheet PDF
Family Handyman, What Is Canada Thistle and How Do I Get Rid of It?
Green Oasis, Common Noxious Weeds in Alberta – Canada Thistle
Mix It Up, Advice and Resources
National Park Service, Invasive Plant Profile: Canada and Bull Thistle
Nature Conservancy Canada, Canada Thistle
PennState Vegetation Management, Department of Horticulture, Managing Canada Thistle Factsheet