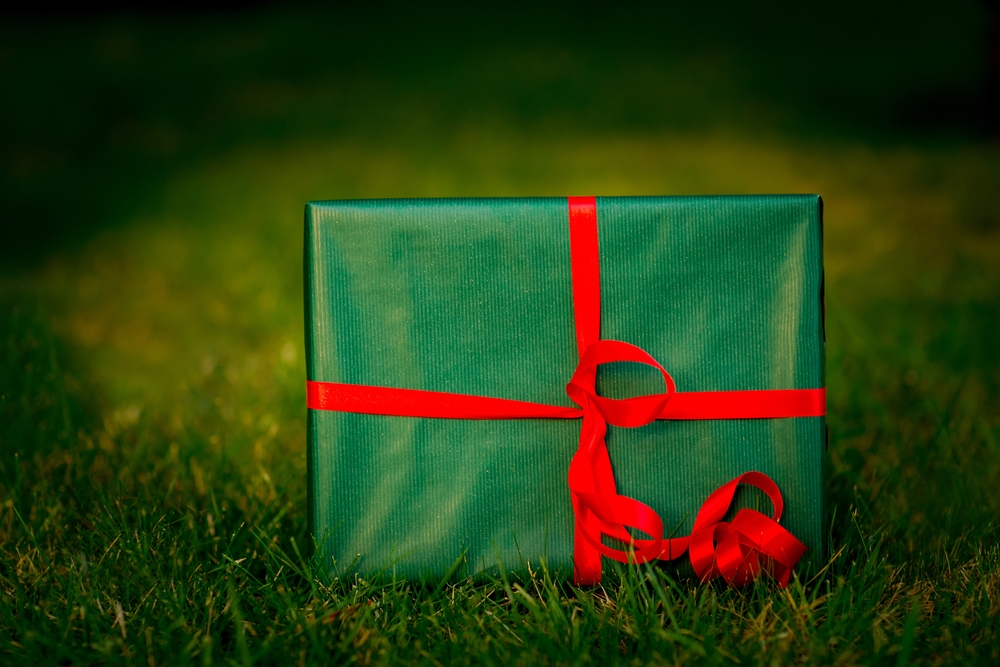 Christmas is just around the corner.
Are you still trying to find that perfect gift for someone in your life who enjoys gardening and the outdoors?
Here are some gift ideas that (we hope!) they are sure to enjoy:
1. Poinsettia
Gardeners love plants. So if you are able to deliver your gift this holiday season, why not bring them a beautiful Poinsettia that they can enjoy throughout the holidays and into the new year? This is also a great way to support a local store versus ordering online.
2. Gift ideas for animal lovers
Ceramic Bee Drinking Cups: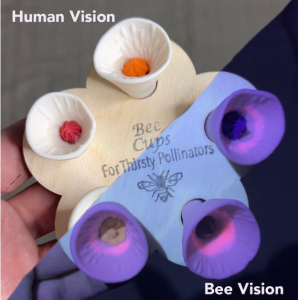 Bees need water. Provide hydration for thirsty bees with handmade porcelain cups for your garden that collect a teaspoon of water for thirsty pollinators. Learn more here. According to Bee Cups, "bees cannot see all the colors that humans see. Bees have the ability to see yellow, green, blue, and ultraviolet, but they cannot see red or orange. Bees are highly attracted by the water, but they also love colors in their vision range."
"Bee-Vision Bee Cups have an Ultra-Violet-Reactive ceramic glaze that is clear to humans but glows bright pink to pollinators. This means that Bee Vision Bee Cups look more like flowers to bees and butterflies, and may attract them even when the cups are dry."
It looks like it is too late to place order this year for guaranteed Christmas delivery, but perhaps next year?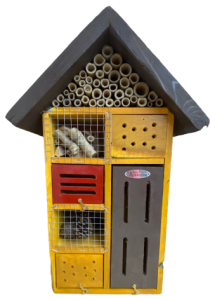 According to Blue Grass Nursery, "Bug houses host pollinators and beneficial bugs." Accommodates: Bees, Ladybugs, Lacewings, Butterflies, Earwigs
Learn more here: Beneficial Bug House – Bug Hotel
Bird feeder and Bird Seed
Birdbath
3. Workshop
Blue Grass Nursery offers a variety of workshops in their Calgary location to create porch pots, holiday planters and centre pieces. This would take some planning to find out what date the person you are buying for would be available and to book the spot early, so this may be a Christmas 2023 idea.
Check out their workshops here:
• Holiday Porch Pot Workshop (Sat, Dec 10, 2022)
• Holiday Planter Workshop (Thurs, Dec 15, 2022)
• Christmas Centre Piece Workshop (Sat, Dec 17, 2022)
4. Rain Gauge
Rain gauges can be functional and decorative as well as naughty and humorous! Choose one that screws into a pole to avoid having to bend down to check it, for those who have a hard time bending, or one that is at ground level.
Consider choosing one with large font size to make it easier to read. The sky is the limit when it comes to options, choose one with butterflies, birds, gnomes, frogs, selection is vast.
Image compliments of Amazon. This "cheeky garden gnome is the perfect way to add a touch of fun, whimsy, and sass to your garden, and is guaranteed to make you smile whether inside or outside." (Source: Amazon) Learn more here (sadly this guy is sold out – surprisingly!).
5. Fire Pit
A fire pit is a great gift idea for those who love spending time outdoors, and provides a perfect opportunity for gardeners to relax and enjoy your gardening efforts, from the comfort and lightness of a contained fire pit.
6. Outdoor & Garden Décor
Lawn Ornaments
Fountains
Garden signs.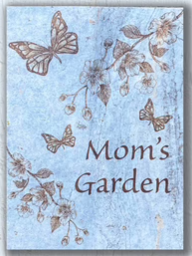 Art of the Tile is an artisan studio located in St. Albert, that offers tile's with the artist's original artwork. Support a local small business and give someone a gift they will cherish. Learn more here.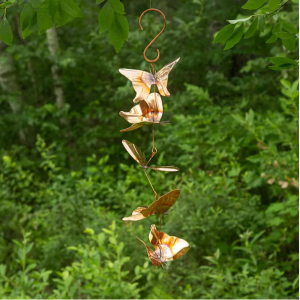 Butterfly Rain Chain that transforms roof runoff into a tranquil stream. "With outstretched wings, each butterfly creates a path for rainwater, carrying a gently flowing cascade that is as lovely to watch as it is to hear." (Uncommon Goods) Learn more

here

.
7. Ergonomic Gardening Tools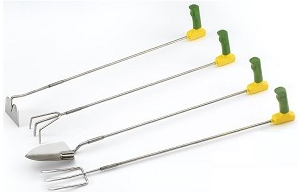 Gardening can be a strain to your body with the kneeling, crouching, bending, lifting, digging, carrying. Help alleviate this strain to the back, knees and wrists, with ergonomic gardening tools designed to minimize strain to muscles and joints. Ideas for people who have difficulty bending: Peta Easi-Grip Long Reach Garden Tools Set which includes: 31″ long reach hoe; 32″ cultivator; 34″ trowel; and 32″ fork. Learn more here.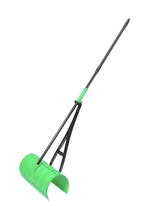 8. Ergonomic Pickup Rake
As Bob Villa says, "Do away with old-school standard rakes that often require multiple rounds of sweeping, and replace it with this highly efficient ergonomic pickup rake. Our experts chose it as one of the best leaf rakes available because it neatly collects dead leaves, debris, clippings, and trimmings with its jagged-edged double-headed scoops, allowing you to tidy up your lawn with less effort in less time."
Learn more about the 17 in. 3-in-1 Lime Green Ergonomic Pickup Rake with Telescopic Rubber Grip Steel Handle from Home Depot here.
9. Folding Seat or Kneeling Pad
Avoid kneeling or having to sit on the ground with a gardening folding seat. For those times when you do have to kneel, a thick kneeling pad is also a handy gift idea.
10. Garden Scooter with Basket

Decrease back strain and increase your gardening enjoyment with a garden scooter. Save your back by sitting on the scooter rather than squatting or stooping. Look for one that has an adjustable seat (height and swivel) and storage for tools.
Pictured is Gardener's Supply Company Deluxe Tractor Scoot with Bucket Basket. Learn more here.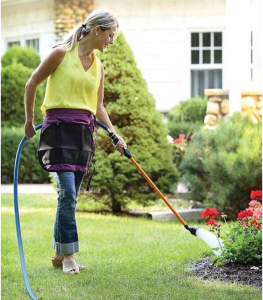 11. Rain Wand with Long Handle
Water hanging baskets and flowers in beds easily with an extended water wand that connects to your garden hose, rather than having to carry heavy pails of water or reach to water hanging baskets.
Product suggestion according to Bob Villa: Dramm 14806 One Touch Rain Wand with Valve, 30-Inch, Berry. Learn more here.
12. Self-propelled Lawn Mower
13. Gift Certificate
Save your friend or loved one the work of worrying about weed control and lawn fertilizer with a gift certificate from Earth Smart Property Solutions. Choose from 3 packages. Gift certificates can also be applied towards monthly snow removal packages, weekly mowing in the summer or any of the services we offer.
Wishing you all the best during the Holiday Season! And remember, Christmas isn't about the 'presents', it is about your 'presence', so put down your phone, if you can, be sure to spend some time with your loved ones and cherish this most amazing time of year.
Sources:
Bob Villa, 10 Ergonomic Tools that Make Gardening Nearly Painless
Bob Villa, 13 Products That Make Gardening Easier on Your Body
Blue Grass Nursery & Garden Centre