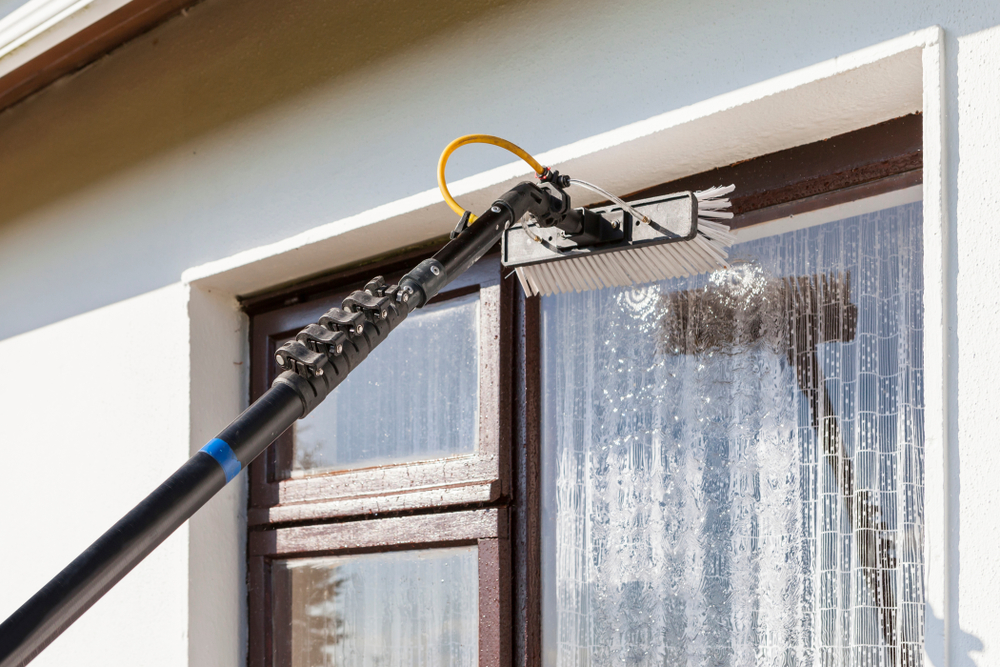 Spring has arrived! What's your favourite thing about spring? It is likely not tackling the "Spring Cleaning Checklist"!
One item that you need to make sure is on your spring cleaning list are your home's windows, both the outside and inside. Most window manufacturers recommend cleaning your windows twice a year.
Why You Need to Regularly Clean Your Windows
Regularly cleaning your windows is important for many reasons. Regular cleaning of your windows will:
Extend the life of your windows as you will be able to detect any issues as they arise
Prevent the build-up of debris on frames, sill and glass, which will damage your windows over time
Make the cleaning easier and will take less time versus only cleaning sporadically
Maintain your home's energy efficiency levels
Allow the sun to shine in fully bringing sunshine and heat indoors
Enable you and your family to enjoy a better view of the world
Protect indoor air quality
A Window's Anatomy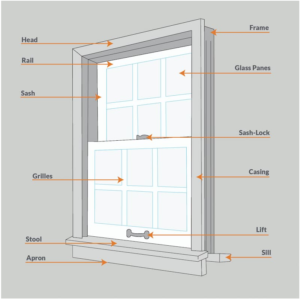 Window Cleaning Checklist
Homeowners should clean their windows twice a year, in the spring and fall. Be sure to clean the following areas:
Screens

Removable Screens: Remove screens, take outside, spray with cleaning solution, allow to soak for a few minutes and then rinse using a low-pressure sprayer. "A dirty screen traps dust, dirt, pollen and other allergens, but a clean window screen can help keep the air flowing into your home cleaner." (Source: Pella)
Interior Mounted Screens (Nonremovable): Vacuum with a soft brush attachment and/or wipe with a solution of soap and water.

Frame: Wipe down the interior frame of the window and remove any debris.
Panes: Clean the inside and outside glass utilizing a cleaning method, solution and tools designed to prevent leaving streaks.
Tips for clean and streak free windows
Be extra careful when cleaning glass that is tinted or reflective. "On a reflective glass surface, damage is more noticeable, and scratches can result in coating removal and a visible change in light transmittance. Cleaning tinted and reflective glass surfaces in direct sunlight should be avoided." (Source: All Weather Windows)
Be sure not to use excessive cleaning solution and to remove all from the window as if residue is left on the window it can cause damage.
Avoid ammonia or alcohol based glass cleaners.
Never use a razor or any type of blade to scrape windows.
Avoid cleaning windows on hot sunny days as the cleaner may dry on the window before you have a chance to remove it, leaving stubborn streaks which are hard to remove.
Vacuum or sweep up grime in window frame before using a cleaner to avoid a muddy mess.
Choose a good window cleaning solution to dissolve dirt so it may be wiped away.
Use a lint free cloth
A handy tip from Good Housekeeping to identify whether streaks are on the inside or outside of the window, "When you're cleaning, wipe one side of the window horizontally and the other vertically. If any streaks do form, you'll easily know whether they're on the outside or the inside."
Rather than cleaning all of your windows on one day, make this job easier by doing windows floor by floor, or room by room. This way, by the time you get to the last window, you won't be as tired as if you did the whole home in one day.
Clean window in an S-shape to remove dirt and grime and avoid smears.
Hire a professional.
Hiring a Professional
If you are considering hiring a professional to clean your windows, there are two methods often used to provide window cleaning quotes:
A count of the number of windows on the front of your home multiplied by 4 (to estimate the number of windows on all 4 sides of your home).
Quoting based on the square footage of your home.
Below is a rough estimate of what you can expect to be quoted by a professional to clean the inside and outside of your windows based on the square footage of your home:
Source: Home Guide
| | | |
| --- | --- | --- |
| Square Feet | Number of Windows | Average Price |
| 1,000 | 10 | $185 |
| 1,500 | 15 | $250 |
| 2,400 | 24 | $350 |
| 3,200 | 32 | $450 |
| 4,200 | 42 | $570 |
Companies providing window cleaning services will often provide a quote based on one of the above pricing models, and then upon arrival at your home to provide the service, the technician will conduct a visual inspection of your home for the number, size and location of windows and advise at that time if the estimate needs to be adjusted.
Your estimate may need to be adjusted if:
Your home has larger windows than the average home
Your home has more windows than the average home
Your windows are very dirty due to not being cleaned for a long time or living in an area with construction
Your home is over two stories
Windows and/or skylights on the second floor and above are hard to reach
You would like to clean glass patio doors, glass shower doors, glass railing on stairs, and other areas
Your home's windows are complex:

Windows with many sections (panes) separated by trim cost more to clean than similar-sized windows with no trim.
Decorative windows
Sunburst windows
Advantages of Hiring a Professional
Saves you time.
If you don't have the tools to do this yourself, then it saves you money by not having to purchase all the proper tools needed.
By hiring a professional you can schedule regular cleaning of your windows, which will extend their life and.
Professional window cleaners will have the proper equipment to harness up, safely climb ladders, clean second floor windows and so forth, saving you the stress of climbing ladders and working at high heights.
A professional will have more experience in cleaning windows in order to do a good job and leave your windows streak free.
This is also a good opportunity to have gutters and the exterior of your home cleaned if your window cleaner offers this service.
Earth Smart Property Solutions offers window cleaning services. If you would like to request a quote, click here.
We utilize a Water Fed System to clean your window. First we use a wet brush to loosen dirt on the window panes and sills. We then rinse them using highly purified de-ionised water. Because the water is pure, it leaves no marks when it dries. You can think of it like the "spot free rinse" at the drive through car wash.
Water fed cleaning systems with extendable poles work very well on two storey homes as they eliminate the need for ladders, save time and significantly reduces the risk of injury and damage to the property.
Plus we don't use any harsh chemicals or cleaners, instead using an effective eco-friendly method which works.
Window cleaning may not be your favourite task to do in the spring, but once completed you will be sure to enjoy improved air quality, extra sunlight, unobstructed views and more.
Sources:
All Weather Windows, Cleaning
All Weather Windows, Cleaning Procedures for Glass Products
CRD Design Build, What Are the Key Parts of a Window
Good Housekeeping, 6 Common Mistakes to Avoid When Cleaning Your Windows
Home Guide, Window Cleaning Prices
Ideal Home, How to clean windows – tips for getting a streak-free finish inside and out