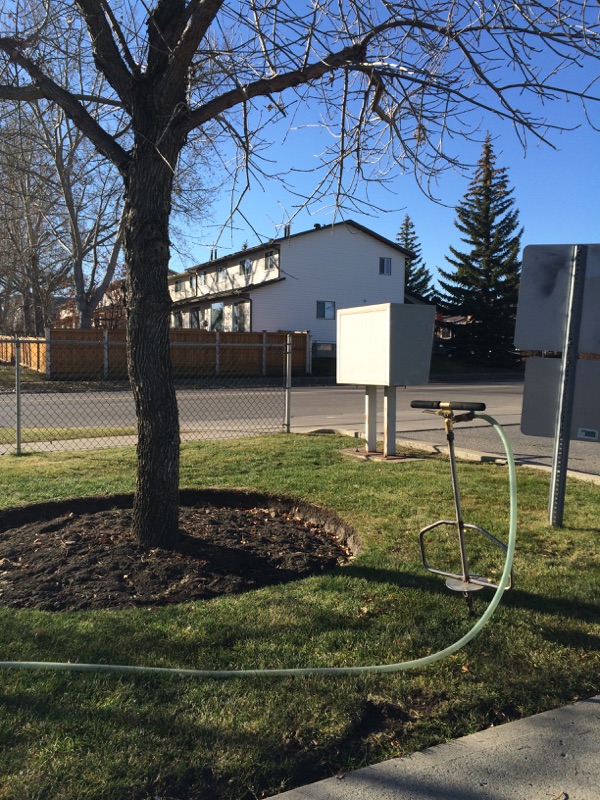 Your largest landscape investment is often your trees and shrubs.
Tree and Shrub Deep Root Fertilization is a popular service in our Calgary location.
You may wonder why the trees you use in landscaping your yard and property need fertilizing when trees in their natural environments don't.
In trees natural woodland environment, leaves and branches provide a natural organic fertilizer. However, in the city, most homeowners don't want to leave leaves on their lawn over the winter, so they rake them up and remove them and the trees don't get the benefits of nature's fertilizer that they need.
what is deep root fertilization?
Tree & Shrub Deep Root Fertilizing involves strategically injecting specially blended liquid soil formulations (a combination of minerals and nutrients) around your trees for easy absorption by the roots.
The probe injects the specially blended liquid formulation (the combination varies in Spring and Fall, based on what the tree needs depending on the season and time of year) approximately 12″ into the ground. This provides your trees and shrubs with the nourishment they require to keep them looking healthy and strong year round.

signs that your trees and shrubs can use fertilizing
advantages of tree and shrub deep root fertilization
Some of the advantages and benefits of Tree and Shrub Deep Root Fertilization:
Creates spectacular foliage
Encourages new growth
Improves overall health of trees and shrubs
Helps trees and shrubs withstand the harsh Alberta climate better
We offer a Spring and Fall Deep Root Fertilization for Trees and Shrubs. Click here to learn more about this service.
Fall Deep Root Fertilization
Fall Tree & Shrub Deep Root Fertilizer is applied mid September to late October.
This application will increase the plant's ability to produce and store energy reserves before freeze-up and will assist with Winter hardiness.
Spring Deep Root Fertilization
Spring Tree & Shrub Deep Root Fertilizer is applied mid to late April and May.
This application provides the plant with the necessary blend of nutrients in the Spring for healthy growth and provides increased resistance to disease and pests.
Contact Us
Please contact us if you have any questions and to discuss whether your trees, shrubs and hedges could benefit from this service or to request a quote.