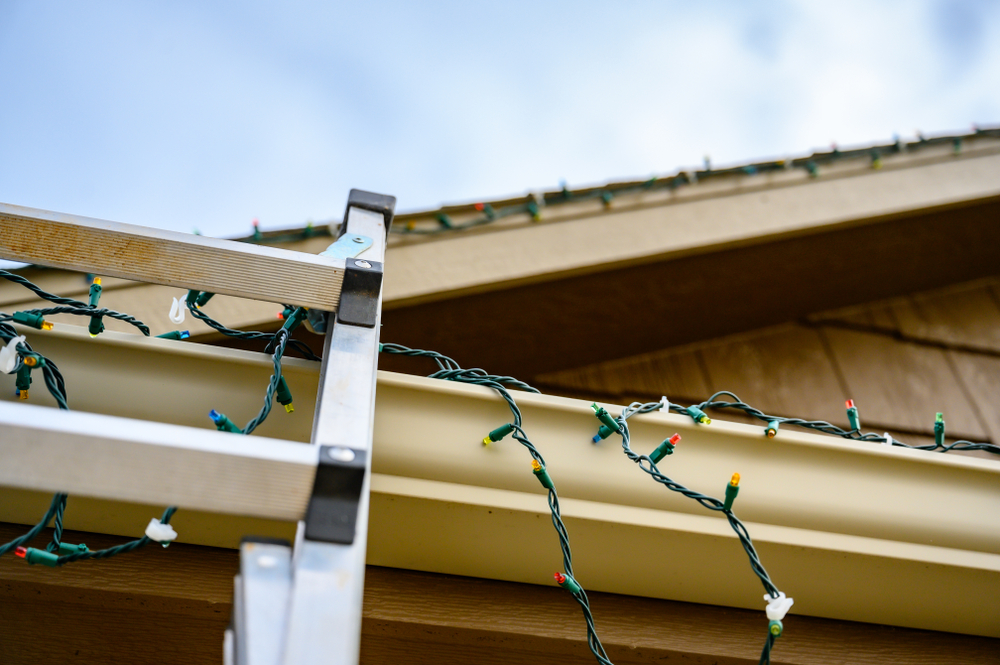 What goes up must come down (that is unless you have permanent outdoor lighting which is hard wired and stays up all year!).
With exterior Christmas lights you plug in, when you put up and take down your lights varies by homeowner.
Due to cold weather, snow and ice, in Alberta, some people opt to put up their Christmas lights in in October or November, before they have to deal with cold weather, snow and ice.  Some leave light install until mid November and cross their fingers that they will receive a warm favourable day to take care of this annual task.
With the long Alberta winters, which can be bitterly cold, many homeowners don't take down their outdoor lights until the weather warms up a bit and the snow and ice melt, which makes dealing with ladders much safer.
Let's face it, in the winter, when it's cold, your time outdoors and in the yard is limited, and the number of hours of daylight is short, outdoor lights aren't really an eyesore. You kinda even forget about the fact that you need to take them down. But when it comes time to dig out the ladder and take an afternoon off on the weekend to do this, here are some tips:
Tips to Safely Remove & Store Outdoor Christmas Lights
Unplug All Electrical Connections
Be sure to unplug all electrical connections before starting to take down your Christmas lights
Find a helper
Make a date with a friend to help you to make it more fun and safer. It will also be much faster as it will save you from crawling up and down ladders; with a friend you can pass them lights to carefully place on the ground, in individual strings, to deal with after all the lights are removed.
Follow Safe Removal Practices
If there is snow and ice on the ground and you are using a ladder, be very careful. This is also where a helper comes in handy.
Don't wait too long to remove outdoor Christmas lights
But keep in mind that you don't want to wait too long before you take down the lights as prolonged exposure to the elements can shorten their life span. Also, most exterior lights are only meant to be used for up to 90 days a year, so check the manufacturer's instructions for more info.
Flag lights and bulbs to fix and/or replace before storing
Before you take down your lights, turn them on and check for any lights or strings that aren't working and fix or replace.
Storage
Be sure to store your lights neatly so they are easy to install next season. Some tips to store your lights neatly rather than in a tangled mess:
use individual pieces of cardboard with a notch at each end and wrap string of lights around
loop lights into a neat bundle and secure each bundle with a plastic twist tie
store each set of lights in a plastic bag, to keep them separated
if possible, store lights in their original packaging so that you have manufacture instructions for proper use on hand
For more ideas on how to neatly store your lights, check out this article from House Beautiful for "7 Simple Tricks to Keep Your Christmas Lights Untangled".
Also, make sure to store your lights in a cool dry place, safely out of reach of children.
Another Option
If your budget allows, consider investing in permanent outdoor lighting to save you time and effort. Learn more about outdoor permanent lighting here.
Source:
House Beautiful, 7 Simple Tricks to Keep Your Christmas Lights Untangled
Handyman, 4 Tips For Taking Down Christmas Lights