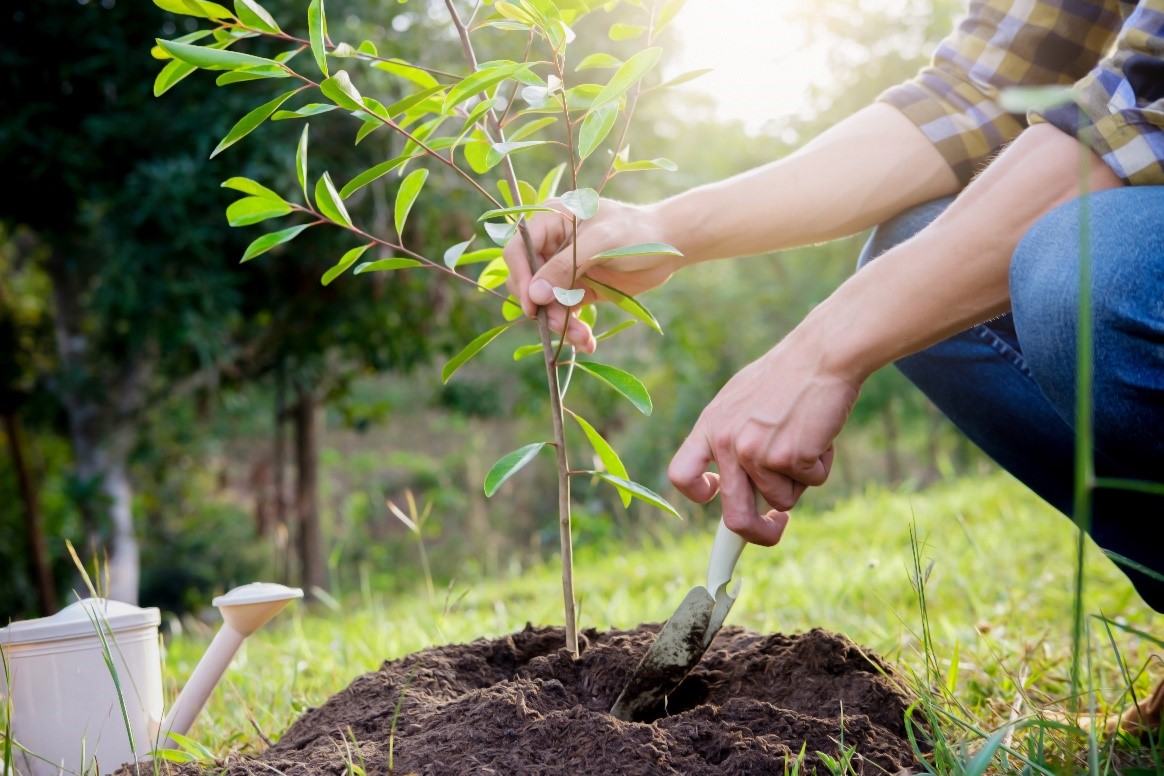 Have you pondered the idea of planting a new tree in your backyard? Are you wondering what are some good things to remember when taking on this yard beautification task?
The City of Calgary has some great tips to help make your tree planting a successful one.
Likely the most important tip shared is to make sure that, "Prior to planting a new tree, be sure you have had all underground utilities located, and always remember to call or click before you dig." (Source: City of Calgary)
Below are a few more key steps to consider:
The planting hole should be shallow and broad. The hole should be up to three times the diameter of the root ball.
Set the tree at the appropriate height. The first 12 inches of soil are where the majority of the roots will grow. The roots receive the highest quantity of oxygen at this depth. To account for settling, plant the tree a bit higher (2 to 3 inches).
During planting, always raise or support the tree by the root ball rather than the trunk.
Before you backfill the hole, make sure the tree is straight. Examine the tree's location from various perspectives.
Mulch the area surrounding the tree's base. Mulch will aid in the retention of soil moisture, the regulation of temperature, and the reduction of grass and weed growth.
Also, to help new trees, consider applying deep root tree fertilizer in the spring and fall. The spring application will provide your new tree with the necessary blend of nutrients in the spring for healthy growth and provides increased resistance to disease and pests. The fall application will help increase the plant's ability to produce and store energy reserves before freeze-up and will assist with winter hardiness.
For more tips on planting, visit the City of Calgary's website here.
Did you know?
In the City of Red Deer, when planting a tree, residents on corner lots are prohibited from erecting, placing, or allowing any structure, fence, hedge, tree, or plant to grow higher than 90 cm (3 ft) within a defined area.
Important Reminder
Whenever you are looking to plant a tree, phone Alberta One Call before you dig to make sure the surrounding area is safe and there are no live wires underground where you want to plant. You can find information on this here.
For another great resource on planting trees, check out the website Tree Canada and their Tree Planting Guide. Here you can find more guidance on planting trees, FAQ's, myths, and tree care.
Earth Smart Property Solutions has Tree Care Services
Did you know that Earth Smart Property Solutions offers Tree Care Services?
Whether it is tree and shrub pruning, deep root tree and shrub fertilizer, hedge trimming, or soil drench we have you covered!
With over 25 years of experience you can count on us for exceptional service. If you would like to purchase any of these services please call our office at 1-888-268-8088 or drop us an email at info@earth-smart.ca.
Source:
The City of Calgary – Planting Trees and Shrubs 
The City of Red Deer – Trees in your Yard