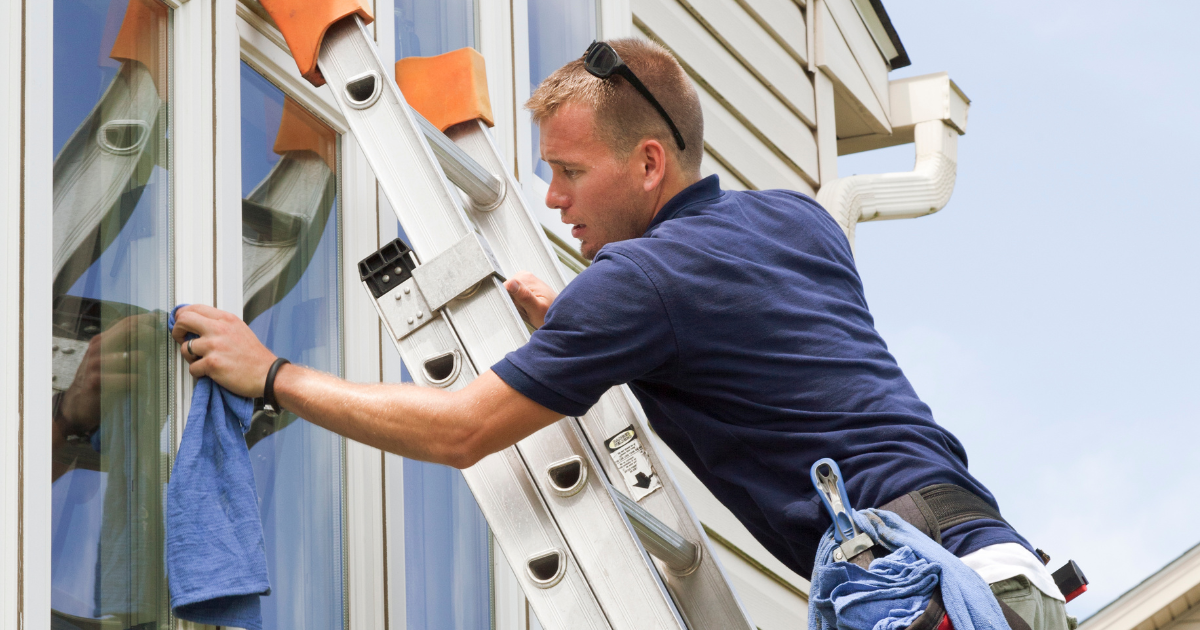 Your home is one of the largest investments that you will ever make.
It is important to properly maintain the exterior and interior of your home, as you do your car, in order to help prevent untimely breakdowns, save money in repairs and keep your home looking its best for you and your family.
Winter can be tough on your home's exterior, so it is extra important to be sure to check your roof, chimney, walls, foundation, windows, gutter and deck once spring arrives.
Most of the following spring cleaning items can be completed by yourself, but if you are strapped for time, don't have the right tools, are afraid of heights or are not comfortable completing any of these tasks, then consult a professional for help.

Outside Your Home
1. Inspect roof and repair or replace loose, missing or damaged shingles. Check for leaks.
2. Wash the exterior of your home – power wash siding. Avoid power washing windows and screens as it may damage them.
3. Windows and doors
Clean exterior and interior window panes.
Remove screens on windows and doors and give them a good wash on your driveway or lawn. Let them dry and then reinstall.
Check seals around all windows and doors. According to Think Insure, "The cold weather can cause cracks or harden the caulk around your windows and doors. Inspect the seals on all windows and doors and replace them as required. This will help prevent water from getting in and help reduce your energy bill. Replace any broken or damaged screens."
4. Inspect gutters and downpipes and remove leaves and debris to prepare for spring rains. Not sure if your  gutters need cleaning? Peruse our blog for "Signs That Your Gutters Need Cleaning". We also offer some tips on how to do-it-yourself in our blog, "Tips on How to Clean Gutters and Downspouts".
5. Inspect your property for any leaning trees or branches that may damage your home or buildings if they fall. Deal with as necessary.
6. Inspect your deck, power wash and refinish if necessary.
7. Inspect your fence for damage and repair as necessary.
8. Inspect your driveway and sidewalks once the snow and ice has melted. If you have new cracks that developed over the winter, repair depending on the type of surface you have or contact a professional for help.
9. Inspect the foundation. According to Think Insure, "Your foundation is often the source of water issues in your basement. Do a walk around the exterior, check for cracks in the foundation, and inspect the exterior walls, siding, and brick for damage. If you identify issues, contact a foundation specialist to look."
10. If you have a septic system, inspect after the winter season and deal with any manufacture suggested spring maintenance tasks.
11. Inspect outdoor lights and motion sensors. Replace bulbs as necessary.
12. Fertilize your lawn. For tips on caring for your lawn (as this has been our specialty since 1994 so we know a thing or two about lawn care, lawn fertilizing and weed control), check out our blog, "The Do's and Don'ts on Spring Lawn Care".
13. Clean up your yard.
If you don't have time to take care of any of these items, we may be able to help. Click here to contact us to request a quote for gutter cleaning, window cleaning, power washing, tree pruning, spring yard clean-up and spring lawn fertilizing.

Inside Your Home
1. Test smoke alarms and carbon monoxide detectors to ensure they are working properly. Easily check this item off your spring cleaning checklist today.
2. Inspect your entire home for signs of leaks and mould including:
Windows
Doors
Bathrooms
Attic
Basement
According to Bob Vila, "If you experienced condensation inside the glass on double- or triple-glazed windows during the winter months, the weather seal has been compromised, and either the glass or the window will need to be replaced."
Be sure to inspect caulking and weather stripping around windows and doors and repair or replace.
3. Inspect your attic to ensure there are no issues such as signs of pests.
4. Basement
Inspect walls for cracks
Inspect your sump pump
During thaws, check for leaks
5.  Inspect caulking around your sink, shower and bathtub and repair or replace.
6. Inspect washing machine hoses.
7. Inspect caulking and weather stripping around mechanicals and repair or replace.
8. Inspect your water heater and drain or flush according to manufacturer's recommended maintenance.
9. Inspect chimney.
10. If you have an air-conditioning system, be proactive and line up a service appointment to avoid the summer rush.
11. Spring is also a perfect time to give your home a good deep cleaning to help remove dust and allergens. Don't forget these spots:
Fridge, oven and pantry – give it a good, deep clean
Chairs, cabinets, window casings, doors, baseboards – dust or vacuum.
Light fixtures and ceiling fans – dust or vacuum
Drapes – wash or dry clean
Blinds (wood and vinyl) – clean with a damp cloth
Mattresses and upholstered furniture – vacuum
Carpet – Consider renting a carpet cleaner
Check dryer vent for lint build up and vacuum
Clean and polish wood furniture

Monthly Ongoing Maintenance
And don't forget to make sure you check the following monthly:
1. Inspect your furnace filter and change as necessary.
2. Inspect faucets and showerheads for mineral build ups and take care of as necessary.
3. Inspect drains for debris and clogs (sink drains, tub, shower) and unclog if required.
4. Test and change batteries as required:
Smoke alarms
Carbon monoxide detectors
Fire extinguishers
5. Vacuum heat vents, heat registers.
6. Check that indoor and outdoor air vents are clear and that nothing is blocking them.
7. Inspect dryer vent for lint and vacuum as necessary.
Sources
Better Homes & Gardens, The Ultimate Home Maintenance Checklist for Every Season
Think Insure, Spring Home Maintenance Tips
Bob Vila, Spring Home Maintenance Checklist