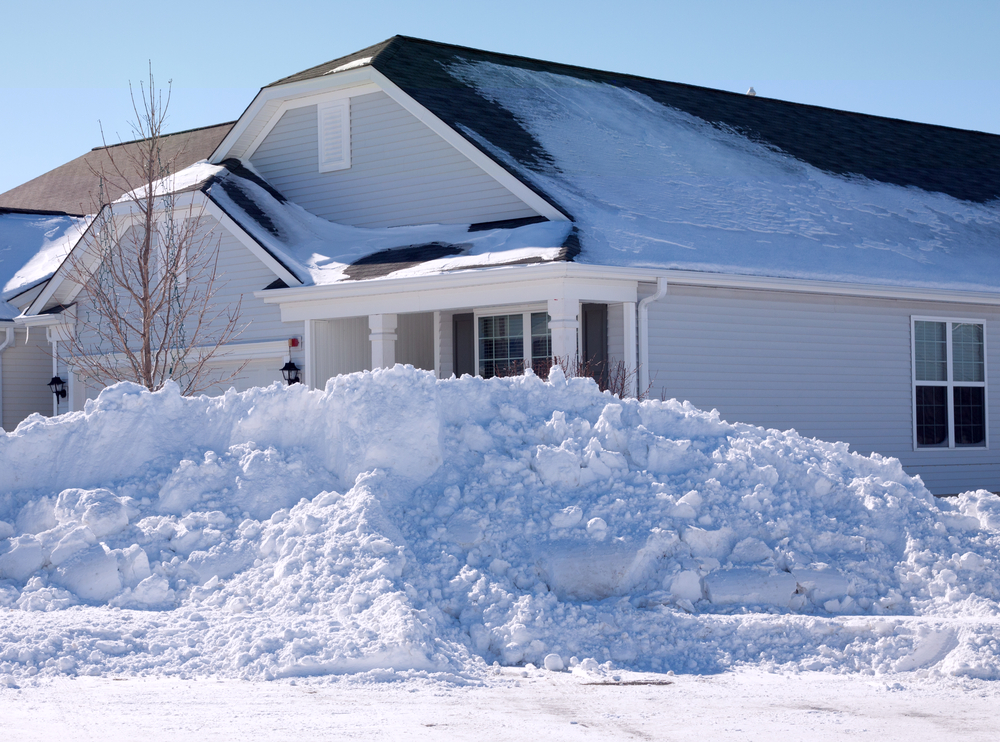 This winter we received a number of requests for windrow removal in Red Deer.
If windrows aren't an issue for you now and they have never been in the past then you may not even be familiar with what a windrow is ("lucky you!" is what all those homeowners are thinking who DO have to deal with this every year!).
What is a windrow of snow?
A snow windrow is the pile of snow left at the bottom of a driveway after a snowplow has cleared the road.
Why are windrows a concern for homeowners?
Issues caused by windrows:
Difficulty accessing homes if windrows blocking driveways are large.
Windrows may block back alleys and access to garbage and recycling bins.
Snow windrows can become very hard, due to mixing snow of various temperatures together. Homeowners may not have to physical strength or equipment to remove themselves. It may be difficult or next to impossible for seniors and those with mobility issues to clear windrows themselves.
Windrows may contain large, heavy chunks of ice which are difficult to move whether you have physical limitations or not.
Who is responsible for clearing windrows and where is the snow and ice moved to?
Another issue with windrows, is who is responsible for clearing them and where to move the snow and ice to?
If you remove the windrows from front driveways and relocate all of that snow and chunks of ice to the street (where people park) this can cause parking issues.
A Backstory on Windrows in Red Deer – 2014/2015
Windrows was a hot topic in 2014 and 2015, in the city of Red Deer, with the following article appearing in the Red Deer Advocate January 13, 2014, "Windrows upsetting some residents. Windrows created by city snow clearing has put some Red Deerians in a bad mood."
It appears that City of Red Deer revamped their snow cleaning policy winter of 2014/2015 "in order to speed up the process and clear residential streets more often. In the past, it cleared the windrows from driveways." (Source, Red Deer Advocate, Windrows Spark Anger, Feb 13, 2015)
"Under the previous policy, it would take the city 40 to 50 days to clear residential streets. Now the policy requires all residential streets with a snowpack of 10 cm to be plowed to five cm within 15 days." (Source, Red Deer Advocate, Windrows Spark Anger, Feb 13, 2015).
On Sept 29, 2015, another article in the Red Deer Advocate quoted councilor Ken Johnston as saying "Windrows are public enemy No. 1 in our city."
Fortunately in this same article the Red Deer Advocate summed up what happened in response to the windrow issue, "Gone with the windrows: Council passes changes to snow removal policy. Council has decided snowplows will do the heavy lifting by removing windrows from in front of residential driveways this winter."
Red Deer's Current Windrow Snow Removal Program
The following is compliments of the City of Red Deer.

Snow and Ice Program.
Green routes and Grey routes, also known as, residential plowing.
Windrows on Green Routes
On Green Routes, windrows are removed using a blower and trucks to haul snow away. We do this because Green Routes are collectors streets and bus routes meaning they have higher traffic volumes and larger vehicles. Removing snow from Green Routes helps to keep traffic moving efficiently after a snowfall. Because we remove all the snow from Green Routes, vehicles left parked on the street will be ticketed and towed to the nearest Grey Route at the owners' expense.
Windrows on Grey Routes
Grey Routes are plowed in the centre of the road, in the driving lanes, and windrows are left on both sides of the street, in the parking lanes. City crews will remove windrows from front driveways, designated accessible parking spots and alley entrances. Because we leave windrows behind, vehicles left on Grey Routes will be ticketed and plowed in.
Residents have the option to hire a snow clearing contractor to clear windrows from the street in front of their house. Private contractors must have a valid Seasonal Use of Streets permit on file with The City.
Learn more here.
Learn more about how Red Deer's snow removal program works here.
For Frequently Asked Questions about Red Deer's snow and ice control program, go here.
How We Can All Help When It Comes to Snow Removal
When it comes to snow removal we all need to do our part to help make roads and sidewalks safer for pedestrians and vehicles.
How can you help the city when it comes to snow plowing?
Be sure to move your vehicle off the street for snow clearing.
Be a Snow Buddy. "Offer a hand to friends and neighbours and help shovel snow and ice from their driveway or sidewalk. See a car on the street when your snow zone is being cleared and knock on your neighbours door to remind them to move their car before they get a ticket." (City of Red Deer)
Need help with snow removal in the City of Red Deer or the following areas?
Blackfalds
Penhold
Red Deer
Springbrook
Sylvan Lake
Please contact our office and we will be happy to provide a quote. Learn more about our Snow and Ice Control services here.
Sources:
City of Red Deer, Snow and Ice Control Program
Red Deer Advocate, City has the equipment to cut through windrows
Red Deer Advocate, Gone with the windrows: Council passes changes to snow removal policy
Red Deer Advocate, Windrows spark anger